Some thoughts following Georgetown's 21-20 win Friday over Princeton: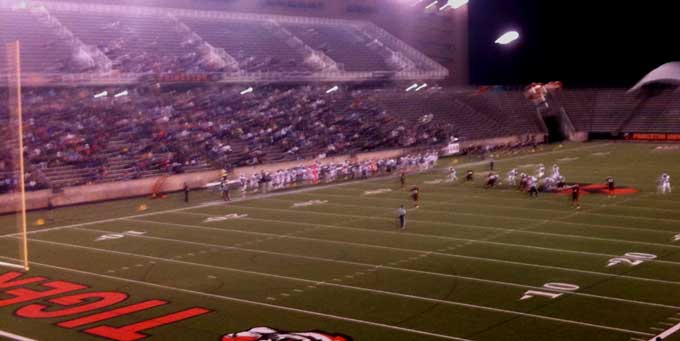 1.
Support
. For a school not known to travel well, the fan support at Princeton was encouraging and a confluence of location, opponent, and preparation.
One of the reasons Georgetown struggles to gather road attendance in places like upstate New York or western New England is distance and density--there aren't as many Georgetown alumni in the area, or aren't enough willing to wake up at 6:00 am to get to a place like Hamilton or Worcester on a biennial basis. The location of Princeton (one hour from New York, one hour from Philadelphia, and three hours from campus) was a great opportunity to play football in the heart of the alumni base and in an opponent students and alumni could get interested in.
That'a not a knock on the opponents of the Patriot League, but a recognition that despite its lean years of late, Princeton is the kind of program Georgetown fans would be comfortable playing on a regular basis. Barring a multi-million dollar change of heart, Georgetown doesn't figure to see Memphis or Louisville on future schedules, and the relationship with the scholarship aspirants of the Patriot League will remain a tenuous one. Teams like Princeton fit the mold of a philosophy that dates back to the 1965 "Football For Fun" case study undertaken by the Georgetown student body, and was expressed over a decade ago by former coach Bob Benson:
"There must be a vision...It is really quite simple. Utilize the game of football to create an environment and atmosphere among our students, faculty, and community on an autumn Saturday afternoon and bring to our campus a school spirit on a fall day that is desperately needed.
The move to the Patriot League was a perfect opportunity. Georgetown has always wanted to play peer institutions. As one of the top academic institutions in the nation, Georgetown wanted to be associated with schools in the Ivy League and the Patriot League...It is a vision:


Play peer institutions.
Build a new facility with all the tradition of the past in mind.
Place it in the center of campus.
Create a new school spirit among our students, faculty, and the community, and bring an environment with a wonderful aura of history and tradition to the Georgetown campus."
Friday's game was also a success because of preparation--working between staff and alumni channels to organize the tailgate, to get the cheerleaders and band to come to the game, and to get students to join them. With the generous support of head coach John Thompson III to help make it possible for more students to visit his alma mater, and the coordination that for a game with national reach, the support would be fitting for the occasion.
Games like Princeton don't happen every year, and certainly not on national TV. The Tigers travel to Washington next season and the two teams return the series in 2016 and 2017. The seeds planted by Friday's game can, with continued support, be the start of a foundation of support among students and alumni to support the team.
For one night in September, anyway, you could hear the fight song from coast to coast.
2.
The View Across The Field
: Monday's
Daily Princetonian
had its take on the game:
"

So where did Princeton go wrong? Well, the easy scapegoat is the kicking game. Freshman kicker Nolan Bieck missed three field goals and had an extra point blocked. Those points, of course, would have won the ball game. But blaming the kicker is a cop out. First off, two of those attempts were from a distance, 42 yards and 49 yards, which would be difficult for any college kicker (anyone see Alabama kicker Cade Foster in the regular season Alabama-Louisiana State game last year?). Secondly, Bieck was put into a bad situation as a true freshman. The Tigers' first touchdown, which looked to be a fake field goal attempt, was actually a botched snap that ended fortuitously for Princeton. That's no way for any kicker to establish confidence at the beginning of a game, let alone a freshman. So yes, technically it's the kicker's fault — but if he is to receive blame, so does the rest of the kicking unit as well as the coaching staff.





The harder answer as to why the Tigers lost on Friday night? Georgetown is simply a better team. That may not be the answer Princeton is looking for, but it's true. The Hoyas are a top-flight opponent from the Patriot League that went 8-3 last season. What is remarkable about this season is that not only were the games with Lehigh and Georgetown competitive (which would be a stretch to say of some of last season's games), the Tigers were actually threatening to win in the closing minutes of both."
3.
The Third Quarterback
: A lot of great individual performances followed in the game, starting with PK Matt MacZura and the outstanding defensive efforts from players up and down the depth chart. One can't underestimate, however, the impact that third string QB Stephen Skon had in keeping the Hoyas in the game and leading them to the game winning FG. It's never easy to take over from an injured teammate, much less make one's college debut on national TV, and Skon handled both of these. It's too soon to confirm when Isaiah Kempf or Aaron Aiken will be cleared to return, but Skon really stepped up Friday and appears to be ready top do so again in the weeks to come.
4.
Running Back Rotation
. Even with a 3-1 record, Georgetown's one running back setup is a point of concern.
To date, Georgetown has been able to get strong yardage (211 yards per game, or 20th nationally) with a one RB set against weaker defenses and those defenses without significant size up front. That strategy figures to run into trouble over the next three weeks as Brown, Fordham, and Lehigh have size and quickness on its defensive line which could make it tougher for Campanella, Durham, Claytor, or Logan to make the kind of headway they have gained in the first four games.
If Skon sees continued time under center, good RB play is essential. Coach Marino has stayed away from a two back set in favor of more passing options, but there may be more opportunities to run two of the four backs in more plays, if only to provide blocking support to allow Skon to set up in the pocket. (This was done at least twice with Campanella moving up what looked like a wildcat or split zone formation, to some success. One can expect brown coaches to be watching the game film intently on Campanella in that set, and whether similar success can be seen Saturday is yet to be determined.
5.
Rookie Of The Week
: Congratulations to freshman Dezmond Richardson, named the PL rookie of the week following the Princeton game.
Big games are not new to Richardson, having played at prep powerhouse Euless (TX) Trinity, home of former defensive back Wayne Heimuli and fellow freshman Jo'el Kimpela. Richardson's seven tackles and a sack in his first college start Friday bring much promise to a young defensive line that will be tested in October and that, following the graduation of its linebacker corps, will be the defensive anchor for next season and beyond.
On to Homecoming..