All eyes will be on campus Friday morning to the site of the former Georgetown tennis courts, where a ground breaking will take place for the John R. Thompson Intercollegiate Athletics Center. But if anyone suggests this is the first athletics ground breaking since McDonough Gymnasium, recall this photo: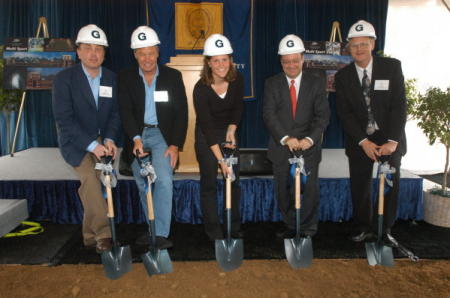 That's a photo from the University's formal ground breaking of the Multi-Sport Facility, April 29, 2005. The photos were gone from this page at GUHoyas.com, but live on, thanks to Google.
The silence from Georgetown as to what has been done (or more, specifically, not done) about this project remains a puzzling legacy across two athletic directors and two interim ones. Unlike the Boathouse, there is no federal red tape to overcome, no community opposition, and no physical constraints that preclude its completion, or at least some spirited discussion. This is a set of permanent bleachers we're talking about, not Kyle Field, a $450 million stadium renovation in the middle of the Texas A&M campus. It's not even Tenney Stadium, a stadium at Marist College that cost just $4 million. In fact, Georgetown reported gifts of nearly $12 million to the MSF in 2005 but has said little about it since.
The last public comment on the MSF predates Lee Reed. On Sept. 10, 2009 (that's five years and two days ago), then-Vice President Dan Porterfield wrote:
"First, it is crucial that we complete the Multi-Sport Field, which hosts not only our football and lacrosse games, but also intramurals, club sports, and events such as the annual all-night Relay for Life, a major fundraiser for the American Cancer Society. The original design, which includes precast cement stands and a rebuilt foundation, has been an expensive proposition. Though improvements have been made to the field in the last few years, the project remains unfinished and still requires significant investment to complete. For that reason, I have asked colleagues in Athletics and the University to see if we can develop a cost-effective approach to completing the field. Our goals will stay the same: To improve our teams' game-day experience, to make the venue more fan-friendly, and to construct an aesthetically pleasing facility. As we develop new options for this important project in the coming months, we look forward to sharing its details with our friends and donors."
"The Field With No Name" has become a sad monument to Georgetown...from the temporary seats (that were being finished the morning of the home opener with Brown) that never went away, to the sand that piles up on its fringes from other construction projects more favorably blessed in the University's capital budget," wrote a blog post in 2010. "The message this project has sent to prospective students and prospective opponents is an exceedingly poor one--it's the academic equivalent of setting up trailers on Healy Lawn and telling people that this is the library."
"Few great universities would put up a temporary building, do nothing with it for five years and be satisfied with it. Georgetown would not have considered putting up temporary housing in the New South parking lot and calling it the Southwest Quadrangle. It would not have considered knocking out some drywall in the Ryan Administration building and hand it over to the fine arts department as its new facility. But five years later, where is the person that works outside McDonough Gym that sees this monument to institutional inertia and expects something better?
A week from now, Brown University returns to the field they inaugurated in 2005. Nothing has changed. It calls to mind a quote from University president Jack DeGioia: "The most distinctive thing about Georgetown is the fact that we are never satisfied. We are always seeking ways to be ever stronger, ever better, ever more true to our mission and identity."
It has been 3,281 days since construction was halted on the Multi-Sport Facility. There is no satisfaction in that number.