Some thoughts following Harvard's 41-2 win over Georgetown Saturday.
1. Strength In Numbers: What did we learn from Saturday's game? Putting aside the obvious about a Georgetown offense that was noncompetitive, it is this: making a game an event brings out people. Lots of them.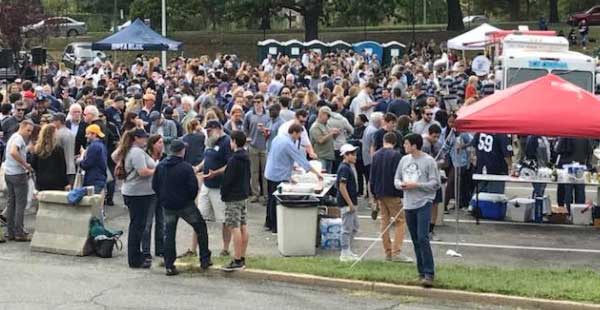 Putting aside the pleasantries about Cooper Field having good sightlines and a engaging campus atmosphere, after 11 year of temporary seats and withering gravel, it does nothing to engender attendance to college football. That a school of over 6,000 undergraduates, nearly as many grad students, with an alumni population of over 40,000 within an hour of the school, in a metro area of more than five million cannot fill a 2,000 seat erector set is not only an indictment of the schedule, but the surroundings. It is not a destination, and all the promises about something better remain that.
No one will confuse RFK Stadium with the Rose Bowl, but there was a sense of an event, at least before the game. That so many students put aside a few hours on a Saturday to stand in a parking lot in Southeast DC and get ready for a football game instead of worrying about what dressing goes on their sabzi salad at Sweetgreen says there is hope for this program after all, if they can schedule marketable opponents, and if they can win. Both are not imminent.
There is work to do in the community, however. While traveling on the Metro to the game, a couple interrupted and asked if I was going to the game. They were tourists from Toronto who had never seen a football game in person and were intrigued. The Blue line car emptied out after Eastern Market and the couple asked why. Someone added that there are a lot of restaurants there. The couple politely got of at Potomac Avenue for a trip back to Eastern Market, and told me they might stop by the game after lunch. Whether they did, I cannot say, but there were people out there that Georgetown couldn't close the deal on. This time.
All in all, it was a great event and I which more could have joined us. How many joined us? Well...
2. Truth In Numbers: Coming home on the plane Saturday night, I had only a wild guess at the attendance. Seven thousand? Nine thousand? Sold tickets over 10 and a walk up crowd less than that? I didn't know. I was baffled by the number placed in the official box score: 3,256, which is less than some games at Cooper Field. It was embarrassing to Georgetown and, as far as I could determine, incorrect.
The photos on the front page showed many more people that that. If Harvard brought, say, 1,500 people (a low turnout given the strength of the Harvard alumni network in DC, but an estimate nevertheless), that about the same must be in the home stands, right? The photos don't support this.
Harvard: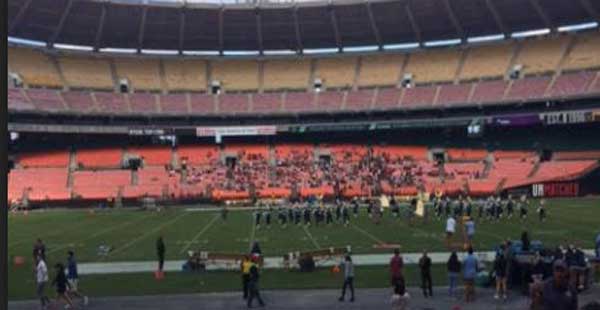 And Georgetown: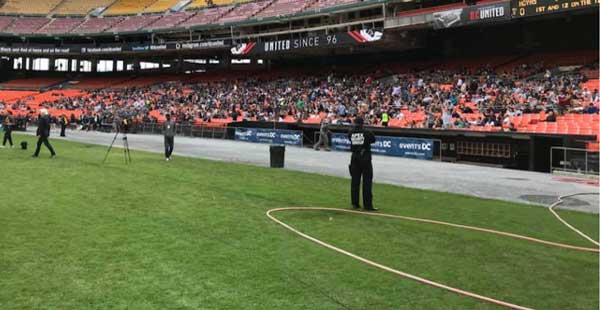 Clearly the number came from somewhere, but I don't know. It has already led to a post on an Ivy League board that suggests Georgetown lost $500,000 on the game, which sounds false on many, many levels. But the official number did not serve Georgetown well nor that of the DC Events promoters, who were hoping for something to justify opening the gates of the aging structure.
3. The Next Time: Could Georgetown do this again? Yes. Should they? Absolutely.
But who, when, and where?
Upcoming schedules are less than favorable with marquee opponents. Patriot League opponents do not have the critical mass to justify any stadium rental, and, as Saturday's visitor turnout may have confirmed, neither is the Ivy League. Howard came to mind in one pre-game conversation I had, but it was quickly dismissed by someone wiser than me, and for good reason--Howard looks at a football game with Georgetown the way Georgetown looks at a basketball game with American--it's not worth their time. Where Howard fans show up in numbers to their close-knit Homecoming game, they fail to draw any interest in other events, particularly non-HBCU's.
Remember the Howard-Georgetown series, the so-called Mayor's Cup? The Oct. 15, 2011 game at Greene Stadium drew just 1,891. At the 2009 game at Georgetown, Howard didn't even bother to send the band. The attendance was less than what Harvard "officially" drew Saturday, just 2,630.
What team would draw students, alumni, and local residents to come back for a game and conversely, who would want to play
Georgetown
and bring heir fans to do so? Well,
Syracuse
isn't walking through that door, and neither are the 90% of Division I-A schools who know there's more money in a guarantee game at
Florida
State
or Purdue than taking your chances against a little-known I-AA team. So, here are three I'll toss out there:
Door #1: Villanova. Name recognition? Check. Interest in both student bodies? Check. Would their fans turn out? Probably, though not guaranteed. A competitive game? Not even close right now.
Villanova has a love-hate relationship with the PL, in that they love to get an easy win or two versus these teams but hate the association that they would be better off in that cohort than competing at a higher level in the CAA. Since 2005, the Wildcats have played every PL school except one, and that's no accident. For years, Andy Talley wanted no association with the comparatively low-rent program that also happened to play in the Big East. Would new coach Mark Ferrante think differently?
Villanova has only three non-conference games annually because of the composition of the CAA: one with temple, one other I-A, and a PL team, often Lehigh or Lafayette. Could a bigger game in DC get their attention? Not right now.
Door #2:
Delaware
: An even more dangerous opponent than the Wildcats, the Blue Hens have no particular history with
Georgetown
(the teams haven't met in basketball since 1966) but they do have a fan base that will travel. The Blue Hens sent nearly 10,000 to
Frisco
,
TX
for the national championship game with Eastern Washington, and average about 16,000 a game in
Newark, DE
, down from the days when a sellout of its 22,000 seat stadium was a certainty. Two hours from the District, they would travel.
Delaware
's non-conference schedule used to be fearsome. Not so this year, a peculiar collection that includes
Delaware
State
from the MEAC,
Virginia
tech, and Cornell. The Blue Hens defeated Cornell, a team not much different than GU this year, 41-14.
Delaware
has upcoming games with Pitt and NC State, do they need a breather?
Door #3: Army. A nationally known team with a built-in fan base, Army isn't afraid to schedule PL opponents (even if they stumble from time to time) and can also whoop up on them too: the Cadets mauled Fordham, 64-6, a year after losing to them. Among I-A teams, the academies are most likely to be PL opponents and, as opposed to Navy (who has no need to play in Washington when Annapolis is 30 miles east), might consider a game in the National Capital Region to play in front of their commanding officers.
Army's future schedules go out to 2030 and not all dates work for their opponents. As an independent, however, they need games. The 2019 season, for example, features the likes of
Morgan
State
, with Bucknell in 2020 and 2021. Absent a team dropping a game, the Hoyas may be late to this discussion.
As for where, that's a discussion. DC United has one game remaining in the building, an Oct. 22 game titled "Last Call". After that, the future of RFK gets tenuous--the stadium stayed afloat with soccer after the Redskins left, and they fact that is was still standing helped bring the Nats from Montreal. After soccer leaves, there are literally no scheduled events there. Even the Military Bowl, one of those generic pre-New Year's bowl games that serve as ESPN programming and little else, moved out in 2013.
Some in DC envision the stadium site as the ultimate lure to bring the Redskins back to town, with a domed stadium that would host Final Fours, political conventions and college football classics far removed from the Patriot League. Others can't get around a name they otherwise embraced for so many years.
(An aside: At the entrance to RFK Stadium is seen a monument to George Preston Marshall, the founder of the Skins. A unrepentant bigot whose fight song read "
Braves on the warpath, Fight for all Dixie
"), Marshall was once quoted as saying that We'll start signing Negroes when the Harlem Globetrotters start signing whites." In 1962, the Kennedy Administration threatened to revoke his lease to then-DC Stadium to force Marshall to integrate the team. A resident of Georgetown, Marshall died in 1969.)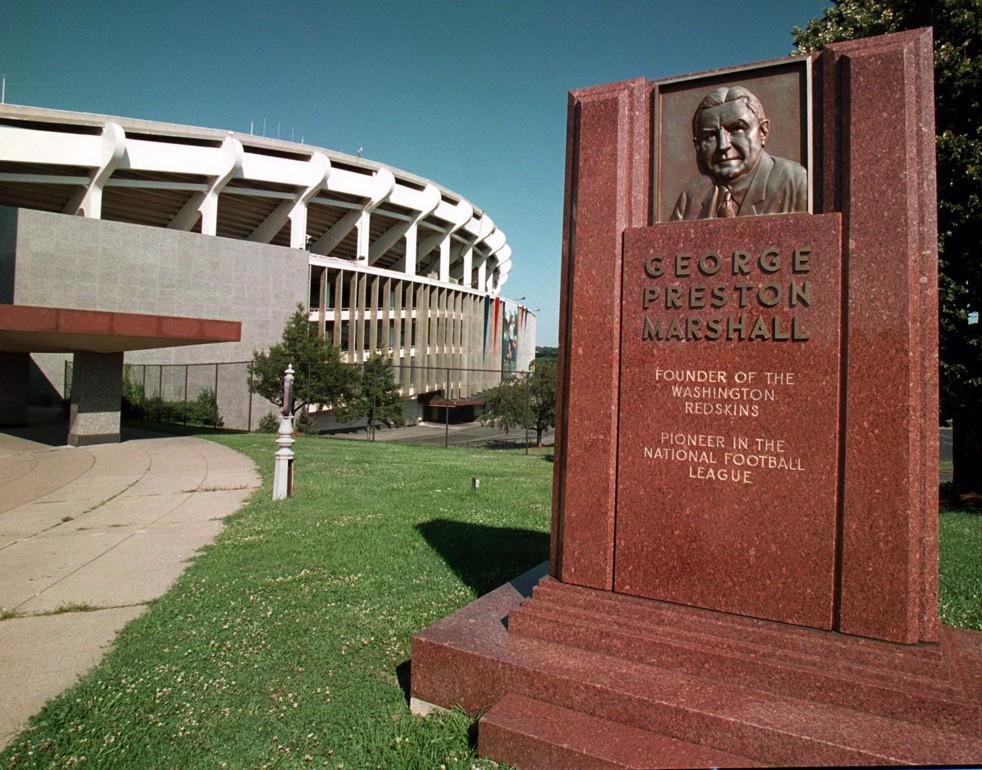 Others see the future of RFK Stadium as some sort of recreational parkland or even some big-box urban village. Whatever the outcome, the old building's days are numbered. Maybe the Hoyas will return, maybe not.
Down by
Nationals
Park
, however, construction is underway on this place:
If Georgetown wants to revisit this in, say, a couple of years, make a call to Audi Field, which is to include, in no particular order, 31 luxury suites, 500,000 square feet of mixed use residential and commercial space, and parking for 447 bicycles for the sustainability-sensible crowd. An aging RFK might have been too much for the upscale Washingtonians out there, but this will fit right in.
To sum up:
Who? No good candidates right now.
When? Not clear.
Where? Old or new, take your pick.
And finally, why? Because Saturday's game showed that,done right, it's a win-win for Georgetown football, even if the outcome wasn't.