Some thoughts following Colgate's 17-13 win over Georgetown Saturday:
1. A Slow Start:
In the second half of seven games this year, Georgetown has scored the same number of points (51) that it has given up, and while that's not a lot, it shows the Hoyas are competitive down the stretch. In the first quarter, however, a different story, where Georgetown has been outscored 52-27. Put another way, the Hoyas are averaging three points a game in the first 15 minutes of games.
Saturday's game might not be the bellwether for any great trends on the Hoyas season, with the number of fumbles and general bumps along the road for both teams, but Georgetown would have been in a much better position in this game not trailing 17-0 after three. In each of the games this season where Georgetown leads after the first quarter, it has won. And where it has trailed, it has lost.
2. Rookie Of The Week
: Congratulations to freshman DL Brennan Sawicki, the PL rookie of the week following Saturday's game. While such weekly honors are altogether fleeting, it was notable in that it's the first Georgetown defensive player so awarded in three years. Twelve tackles in a game is a good number regardless of graduating class, but with a number key seniors graduating in 2016, the next generation of defensive players is vital to a team that is not as deep as its scholarship brethren.
3. Late Arrivals:
Saturday's attendance at Cooper field topped 3,000 for a second straight week, marking one of the six largest crowds on the temporary tundra since it opened in 2005. But you wouldn't have known it by the game time crowd. Here's a photo of the captains approaching for the coin toss:
It's important that when the Cooper Field planning takes place, assuming it is in progress, that there is incentive for people to actually arrive to the game on time and find a pleasant environment to watch the game. No stadium in the PL is as close to its campus as is Georgetown, but the current seating configuration is uncomfortable at best and unwelcoming at worst.
We can do better. With the Cooper gift, now we can.
4. It's Good To be At Home
: While the Hoyas s welcomed the Red Raiders in Washington, here was the scene in Hamilton as the GU field hockey team traveled to play up there: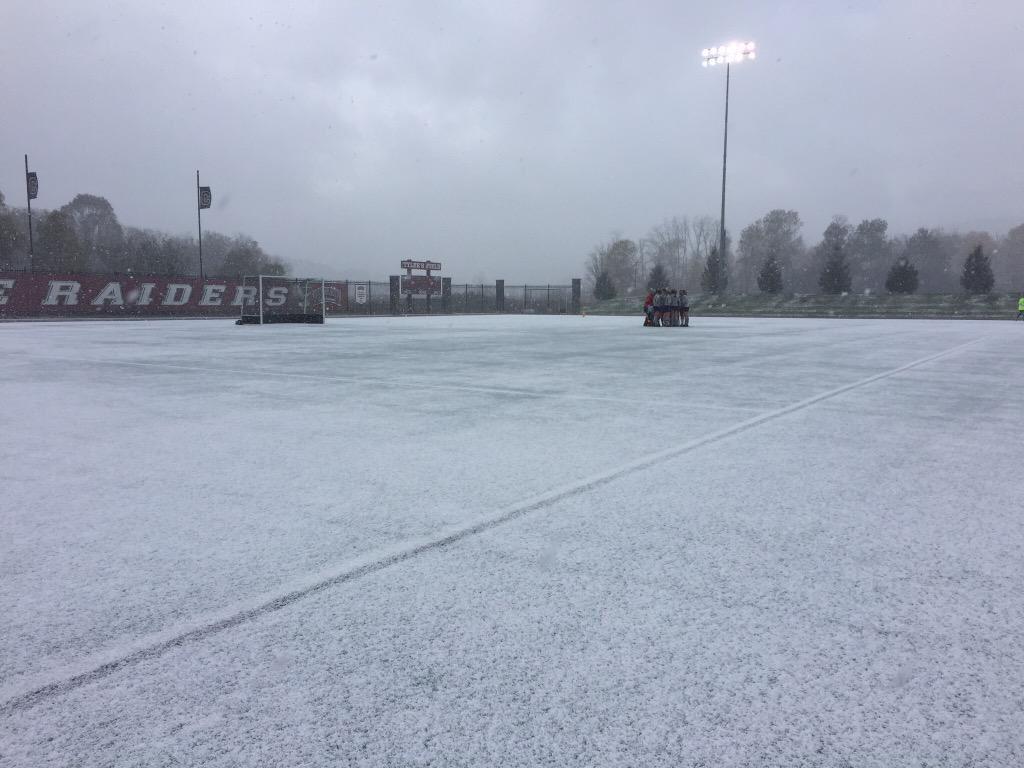 It may be a sign of things to come. Colder weather awaits, and Georgetown has only one more home game this season, which (again) is scheduled against the home basketball opener.